Ferret Bedding for sale
Over the years, we have made our own bedding for all of our own cages, plus all the boarding cages.
As time has gone on, they have stood up not only to the ferrets, but continual washing as well, and various people dropping off and picking up their ferrets for boarding have seen some of the unique ideas, and asked us to make bedding for them as well.
We have received some very positive feed back from these people, so have decided to place a few of our beds on here, for other people to see, and if they wish, buy.
Some of the bedding has just been made for fun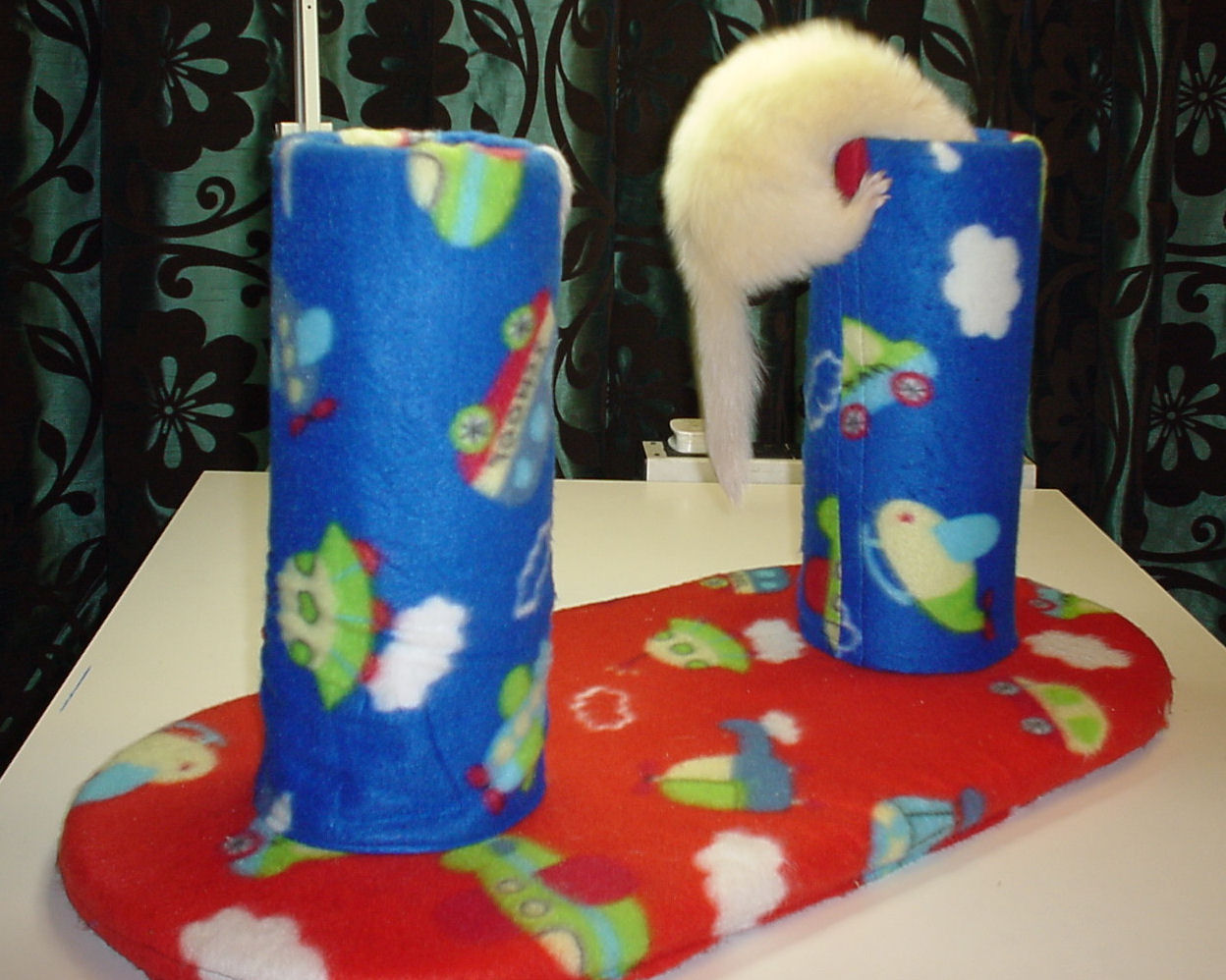 This is a "Trouser Bed". This pair of tubes are designed for an old pair of fleece trousers to be placed over, which the ferrets then love to sleep in. People who have ferrets will know that when they are out and playing, you are not allowed any privacy. This even includes when you pop to the toilet. This idea came about from seeing multiple ferrets climb into my trousers and immediately curl up to go to sleep. I decided to build this, and it has been a very popular bed for them ever since.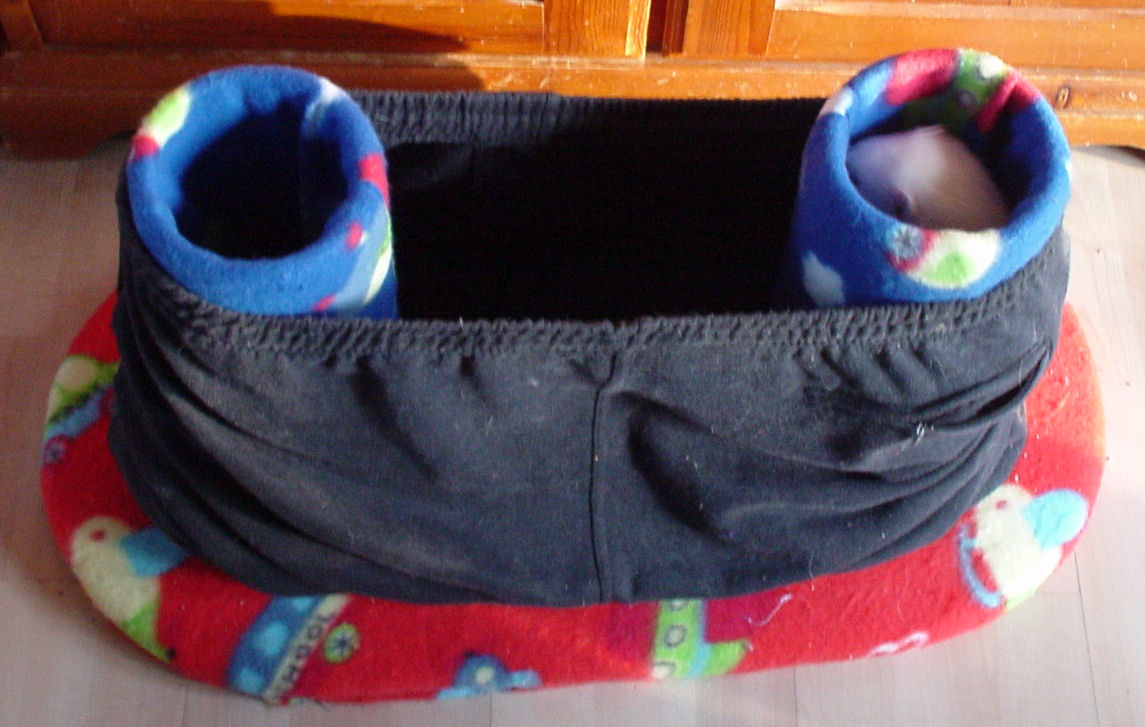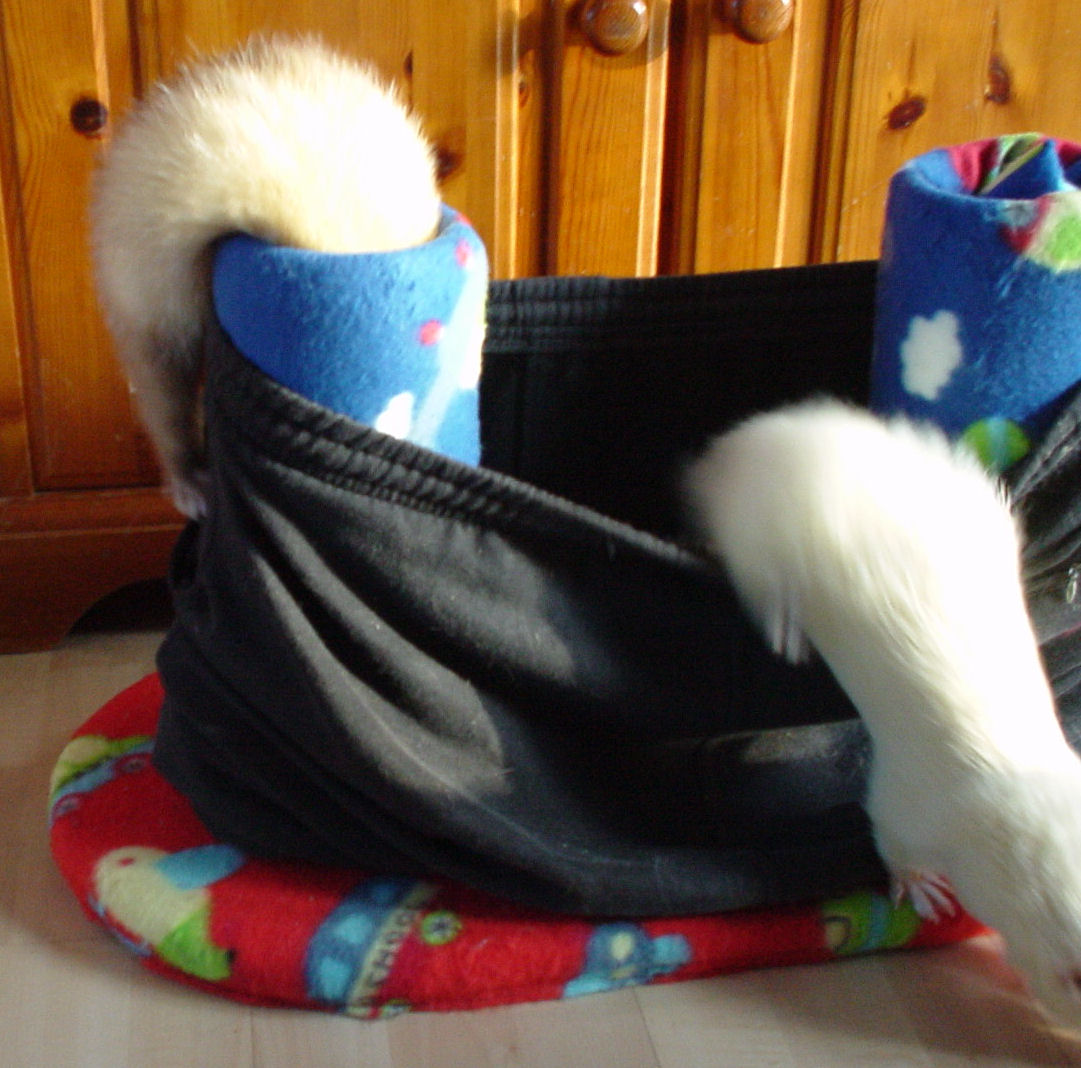 Other items have come about as a way of extending the life of something that they have wrecked or worn out over time
This metal frame originally had a fleece hammock, but it had gone completely thread bare. As we know from experience, ferrets like to sleep inside hammocks as well as on top, I decided to try one of my Sleep-e-Sack Hammocks, converted to fit on the frame. It was an instant success, and again, when one of our regular boarders saw it, she plagued me into make her one, which turned into 3, then a one for her friend, then several other people as well.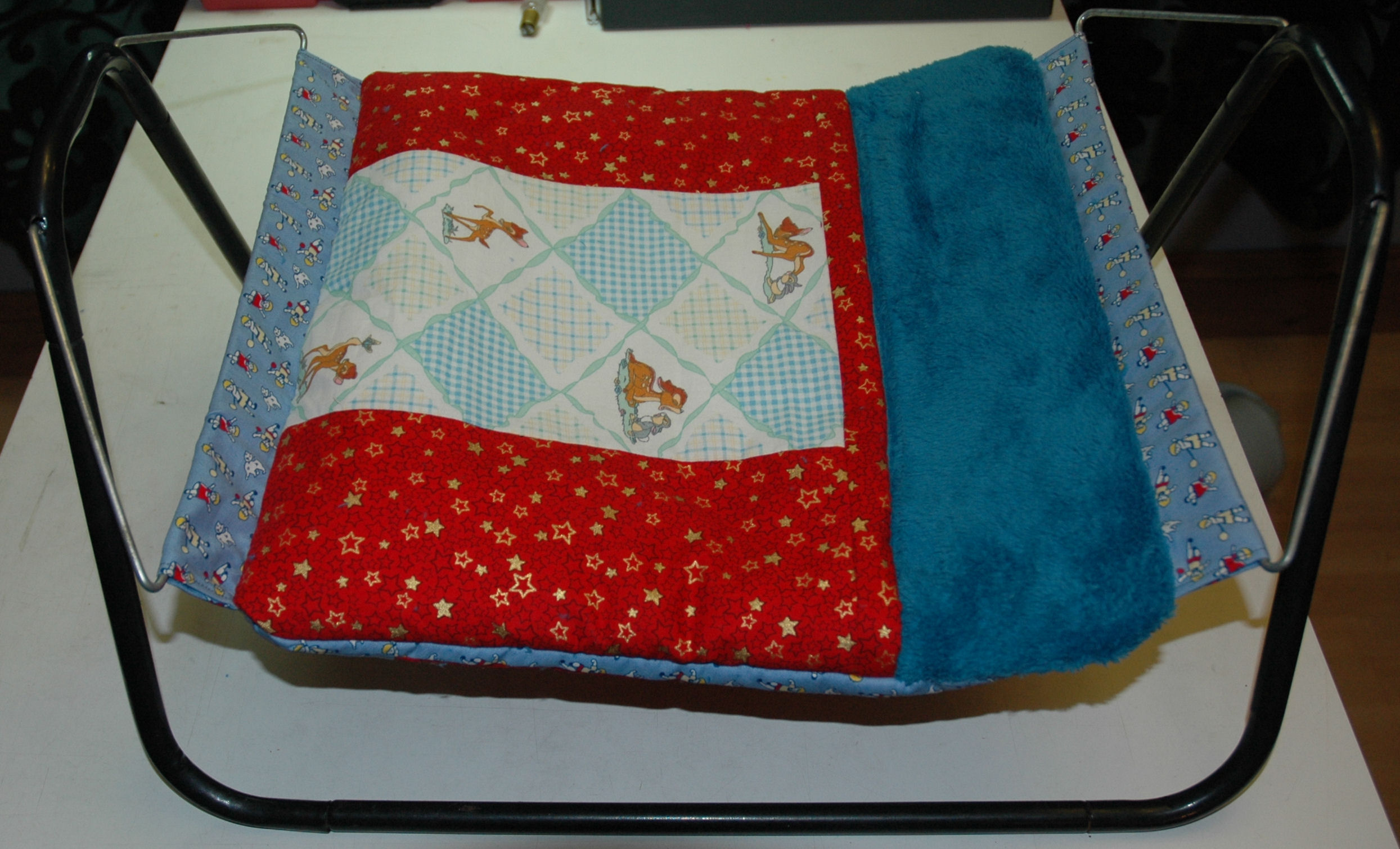 Some things are made just to prove to myself that I can do it
I had never made anything from a sewing pattern before, and saw a pattern on Ebay to make a fish the ferrets could sleep inside. After many many hours of swearing and cussing, I finished up with this. I have to say though, that 4 years further on, and it is still one of their most favourite sleeping places, so was well worth the effort.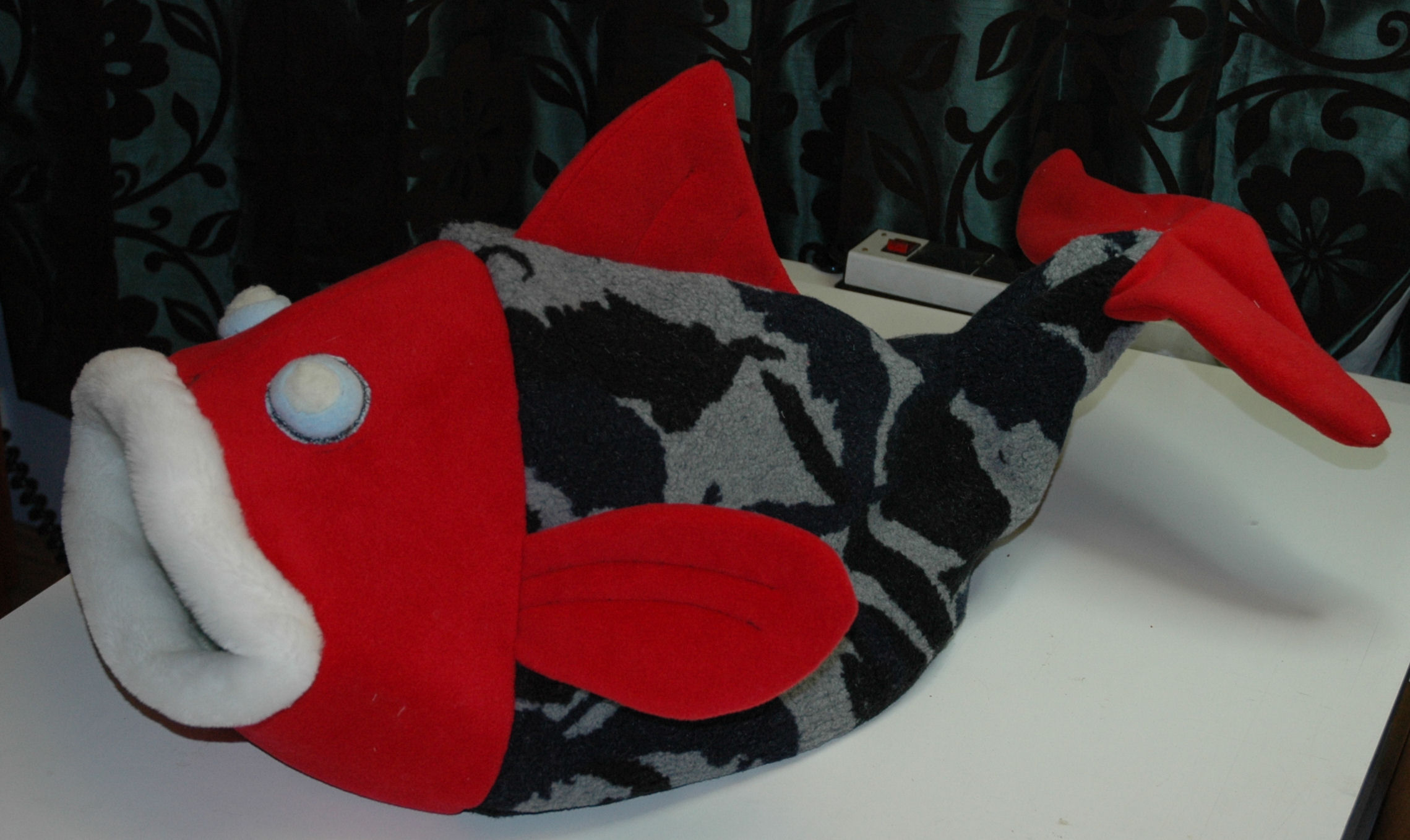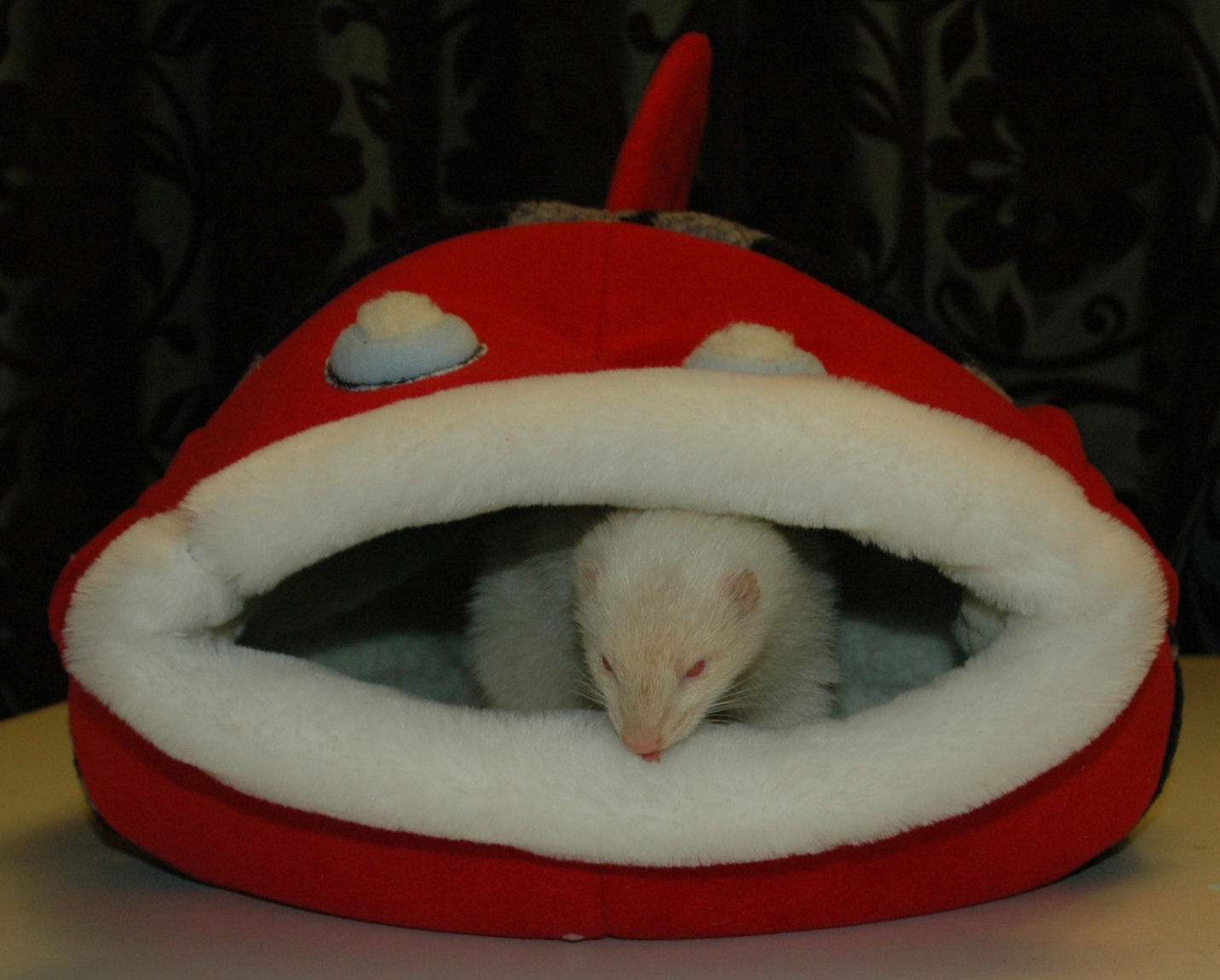 These came about from watching what the ferrets love to get into. I discovered a shoe pattern on the internet, but despite my sharp learning curve from making the fish, I could not work out how they actually made the pattern in the first place. In the end, I decided to use my engineering background, and design a shoe pattern from scratch, as if I was going to make it out of metal, but use cloth instead. Here is the results, which has turned into yet another very popular sleeping place.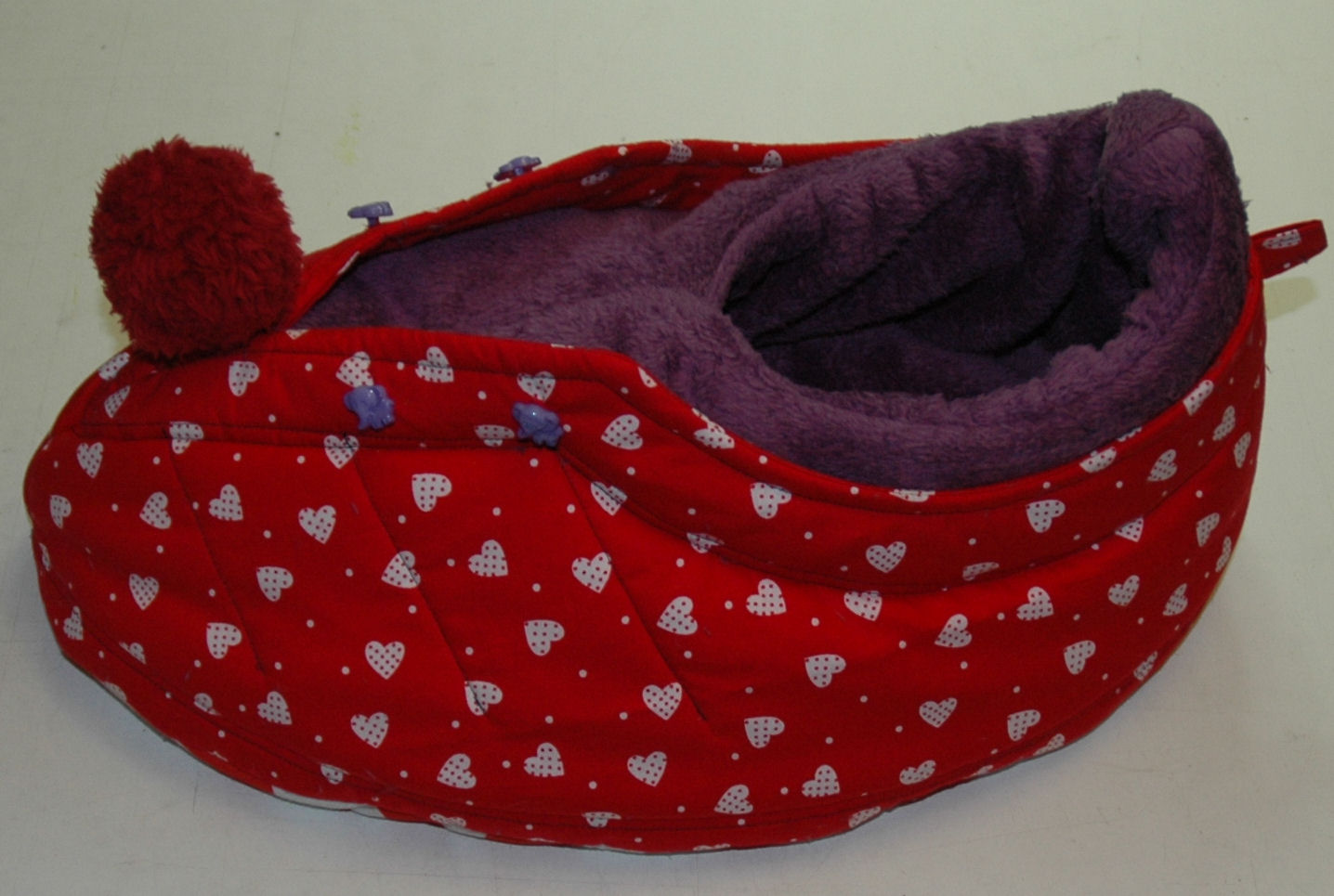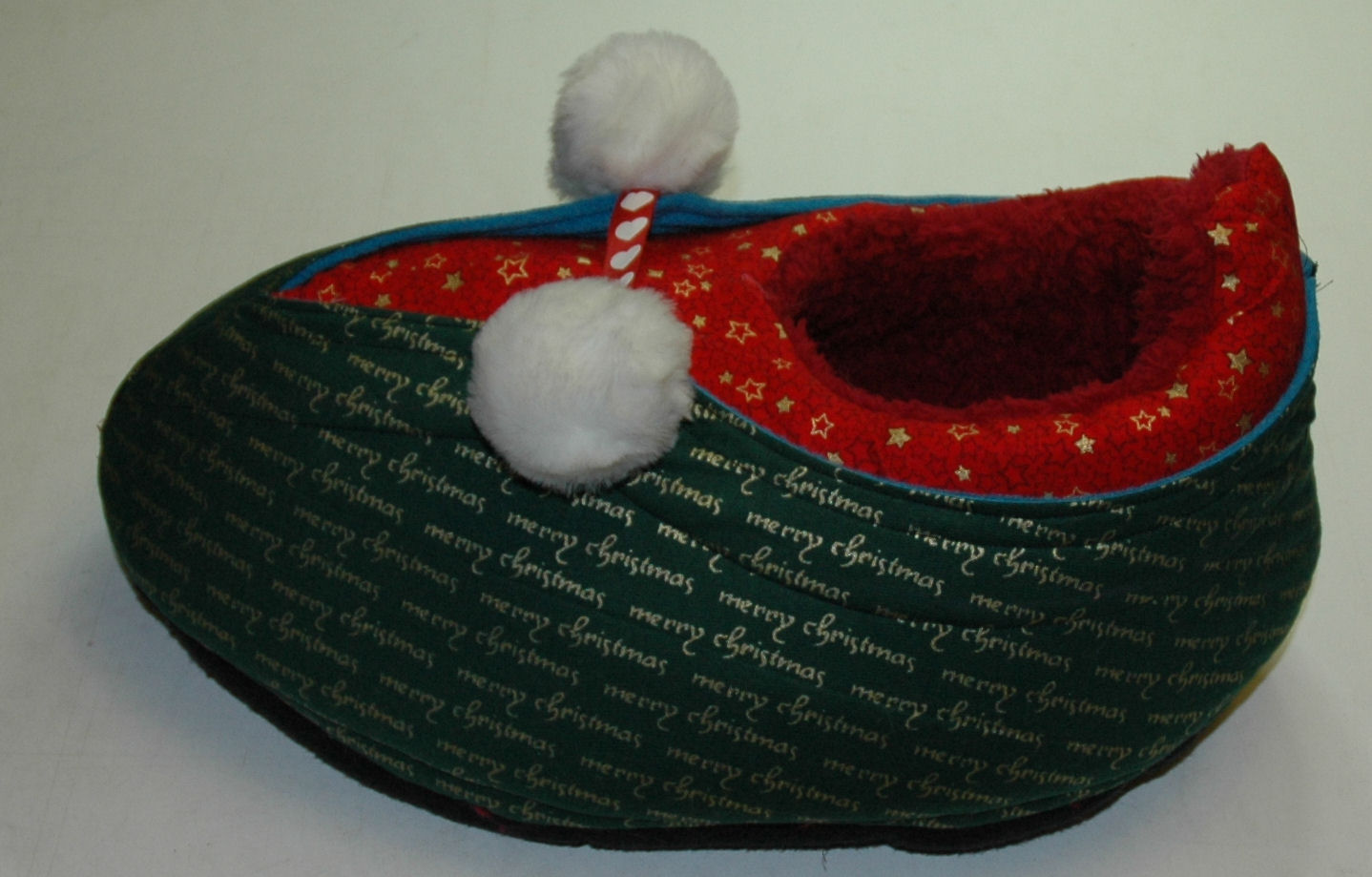 You can actually get 4 large ferrets in there at a pinch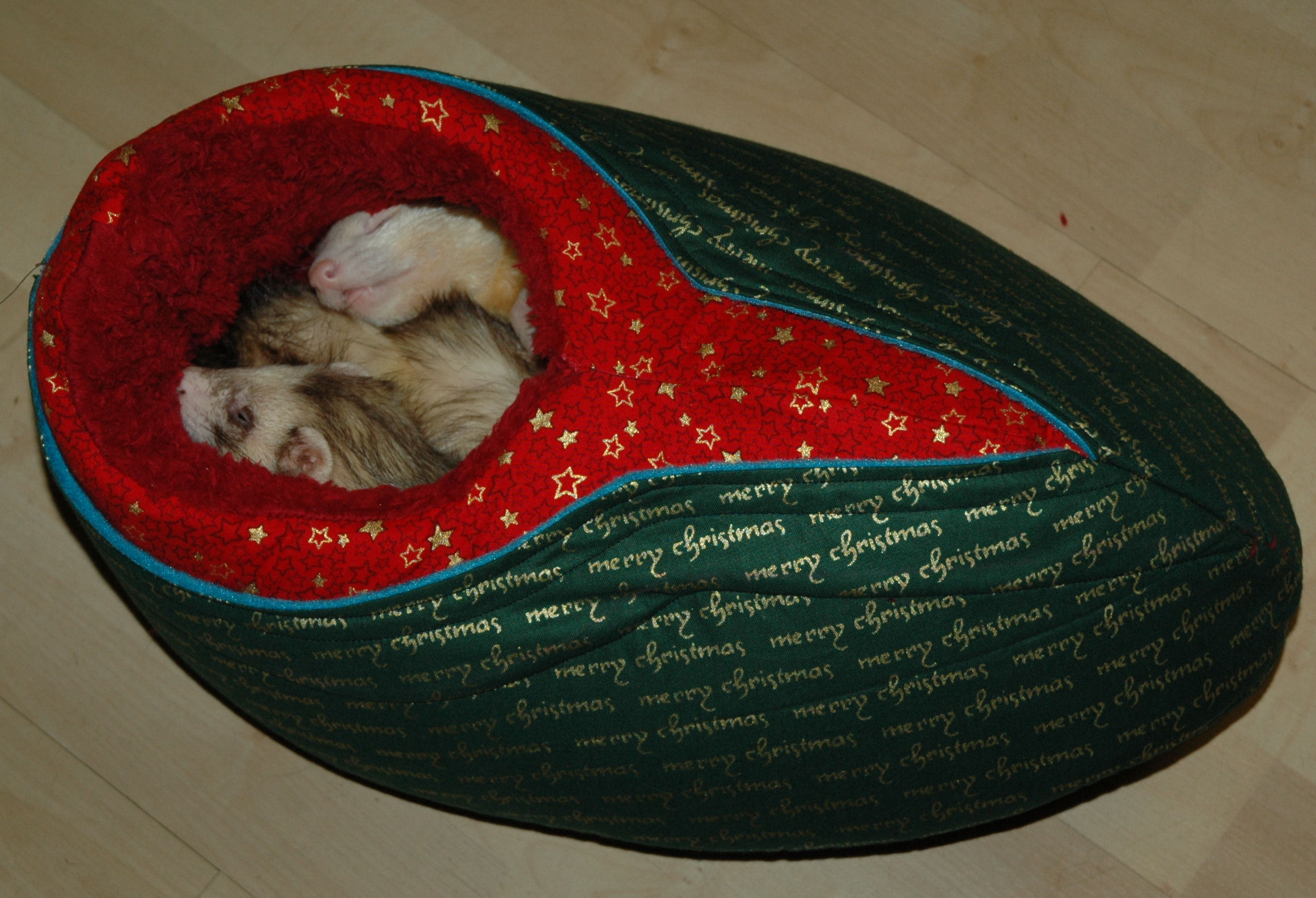 There are 3 in here at the moment.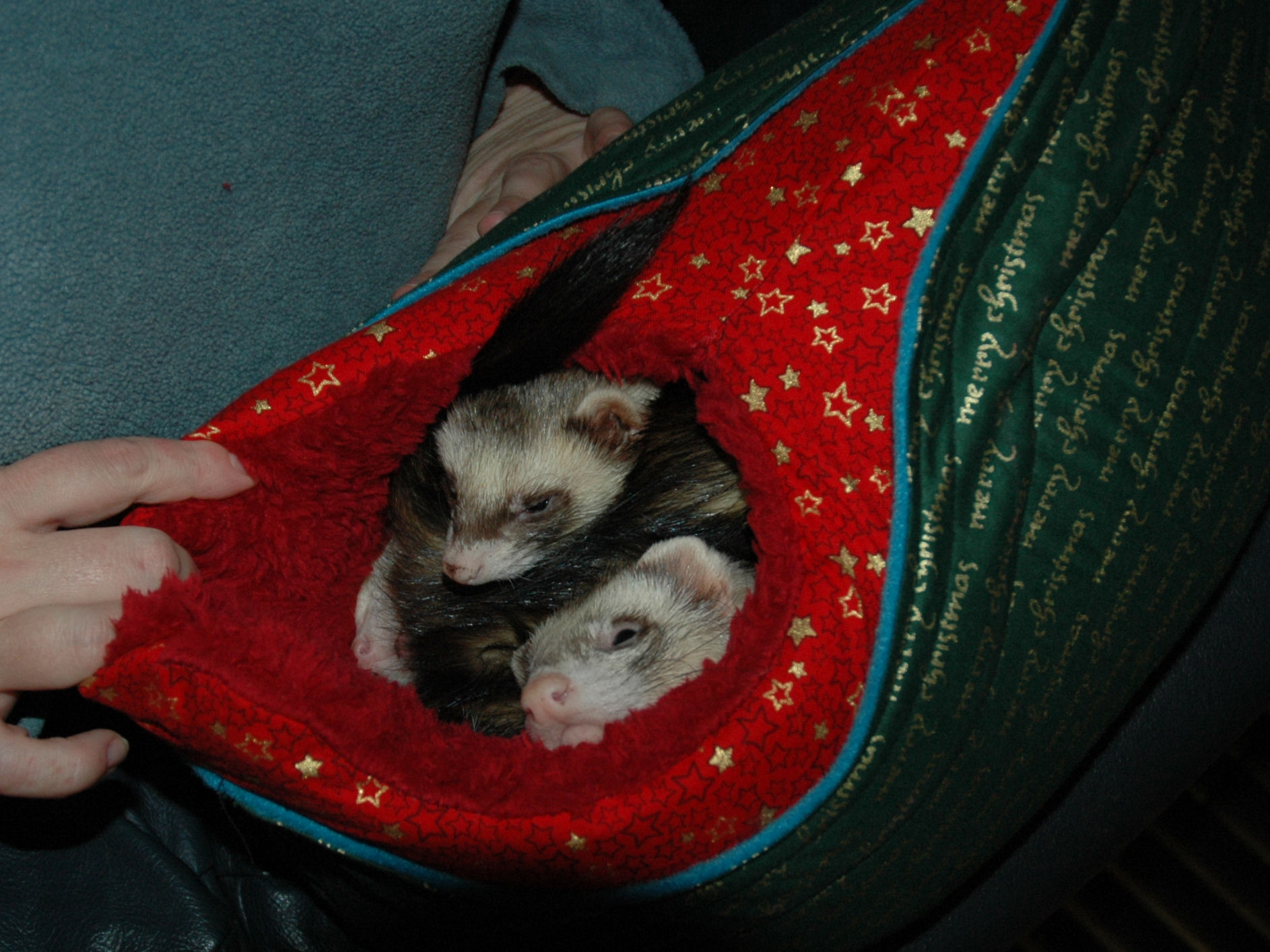 Ingredients
Most of my bedding is made from a cotton outer layer, and a fleece inner. They have a quilted padding layer between the inner and outer layers.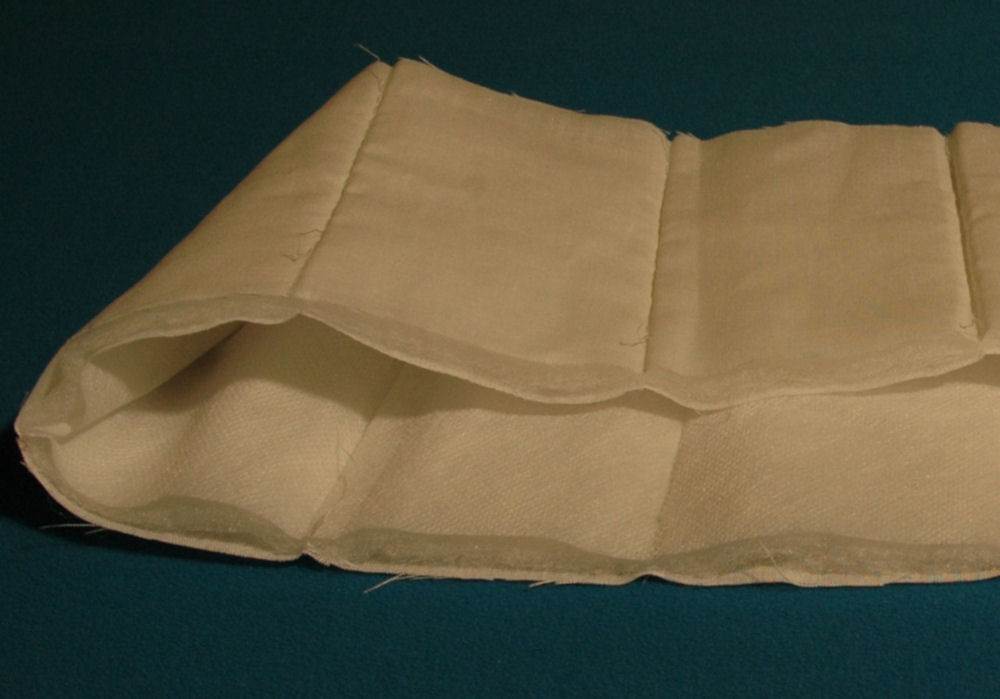 One of the problems I came across when I used to buy bedding from other people, was they started out all nice and padded, but after a couple of washes, the padding ended up clumped together in one or two corners leaving nothing in the middle where the ferrets slept. I discovered that this was because padding or Batting as it is called is supposed to have cross stitching to stop it moving around, the same as a quilt has. The problem is, this does not look so nice on the ferret beds and takes a lot more time, so most people do not bother to do it. I wanted my Hammocks to last, so to get round this problem, I either "quilt" the Batting between 2 pieces of cotton, or use pre-made padding where it is already quilted as shown above. I then used this sandwiched padding inside the hammock.
The result is padding that stays uniformly spread out, and better still, should an old hammock end up getting ripped, there is still another layer of cloth inside the outer which will keep the ferrets away from the padding, reducing the chances of them trying to eat it.
In the case of the quilted batting not being up to the task of making something keep it's shape, like the shoes, they are instead padded with Fire Retardant foam.
The following items are currently for Sale, but please do double check before setting your heart on one, just in case it has been sold in one of the other places they are listed.
Items Currently for Sale
Luxury Christmas Hammocks. There are currently 2 of these. These are 18" square.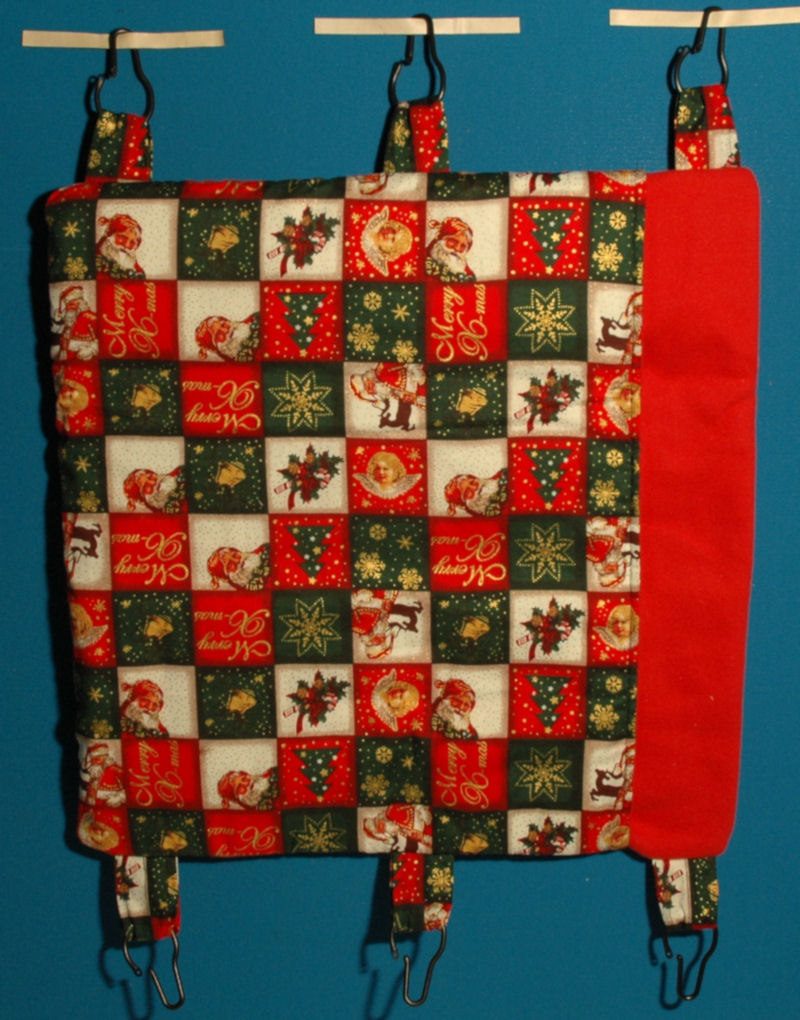 With plastic clips £17 each.
With 6 Aluminium Carabina clips £20 each.
Deluxe Luxury Christmas Hammocks. There are currently 2 of these. These are 23" long X 18" wide.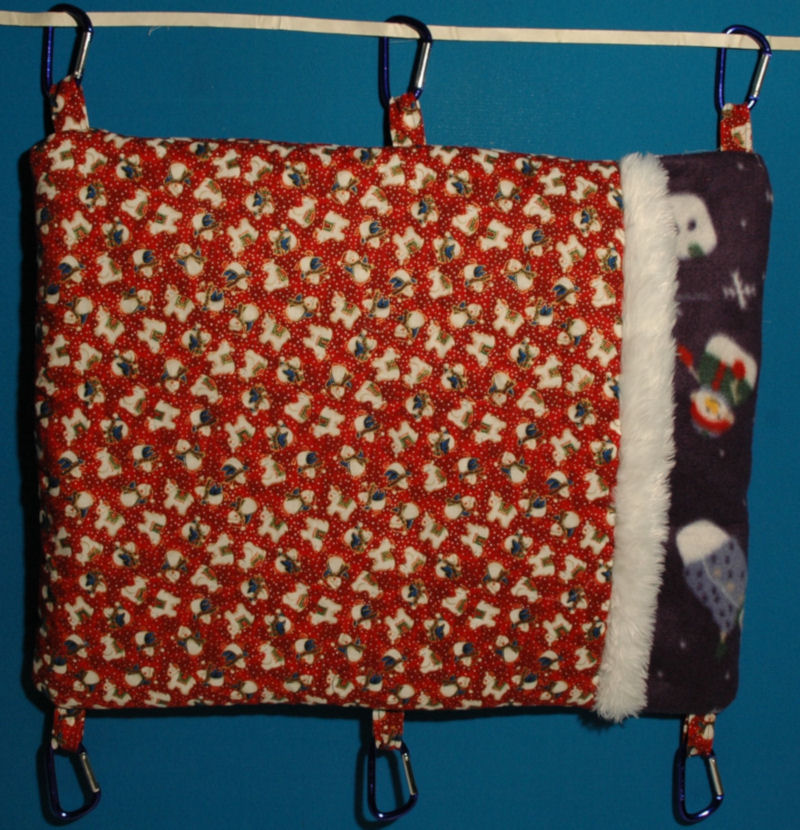 With plastic clips £22 each.
With 6 Aluminium Carabina clips £25 each.
These are extra padded, and have 2 layers of padding both top and bottom to be extra warm on those Cold winter nights. They also have a fluffy white stuffed trim across the entrance to the sleep inside part.
Luxury Car Hammock. For the more "Manly" ferrets, 19" x 11"
Sorry Now Sold.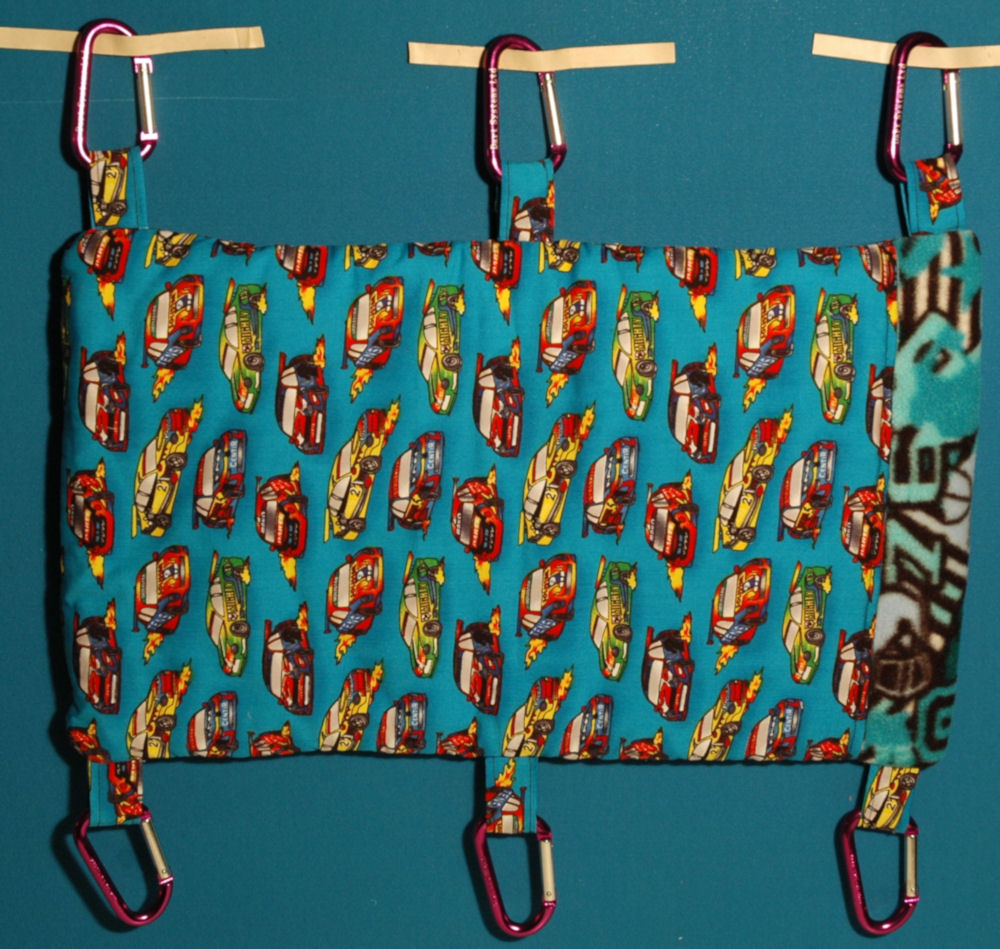 With plastic clips £12.
With 6 Aluminium Carabina clips £15.
Luxury Extra Large Hammock. Perfect for your Show Cage 26" x 17".
Please note, the opening is on the long side, which makes it easier to get the ferrets in and out at judging time.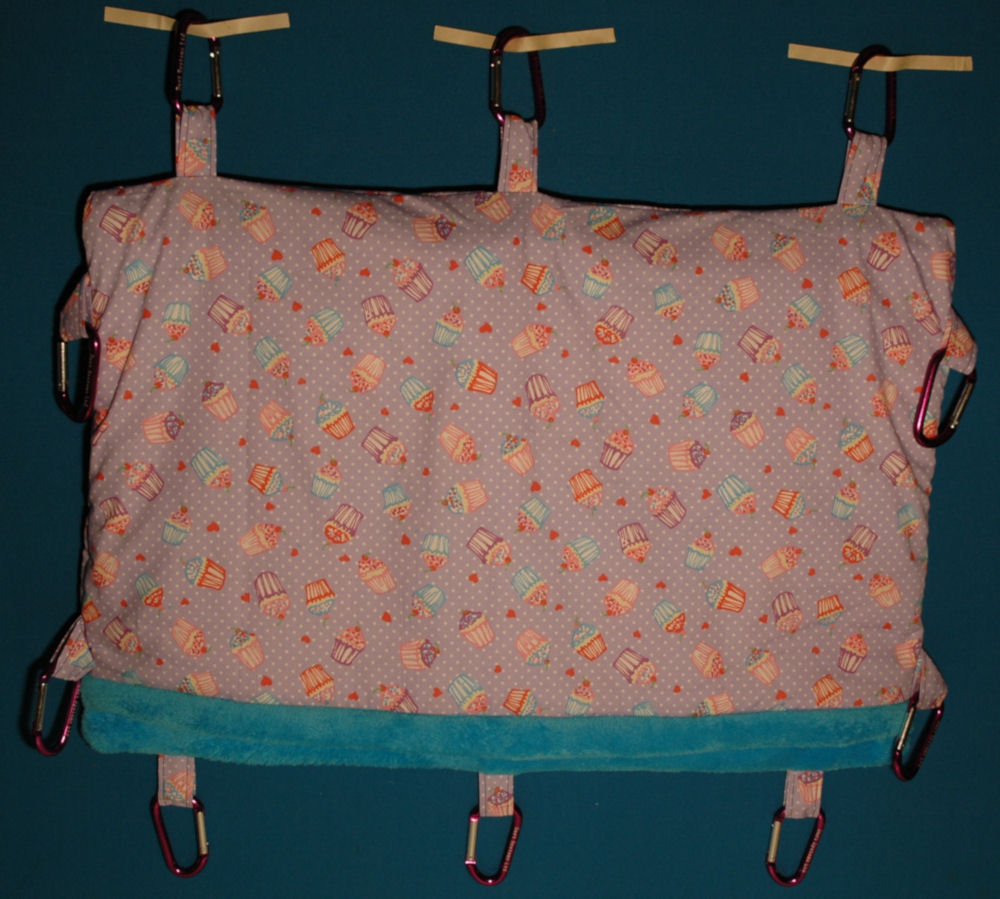 With out clips £25.
With 10 Aluminium Carabina clips £30.
Sorry for the picture quality, it is hard to get the detail and fit the whole hammock in. Please check the next smaller hammocks in the same material to see the pattern more clearly.
Luxury Cupcake Hammock. For the more "Girly" ferrets. There are currently 2 of these. 14" x 15".
Sorry Both Now Sold.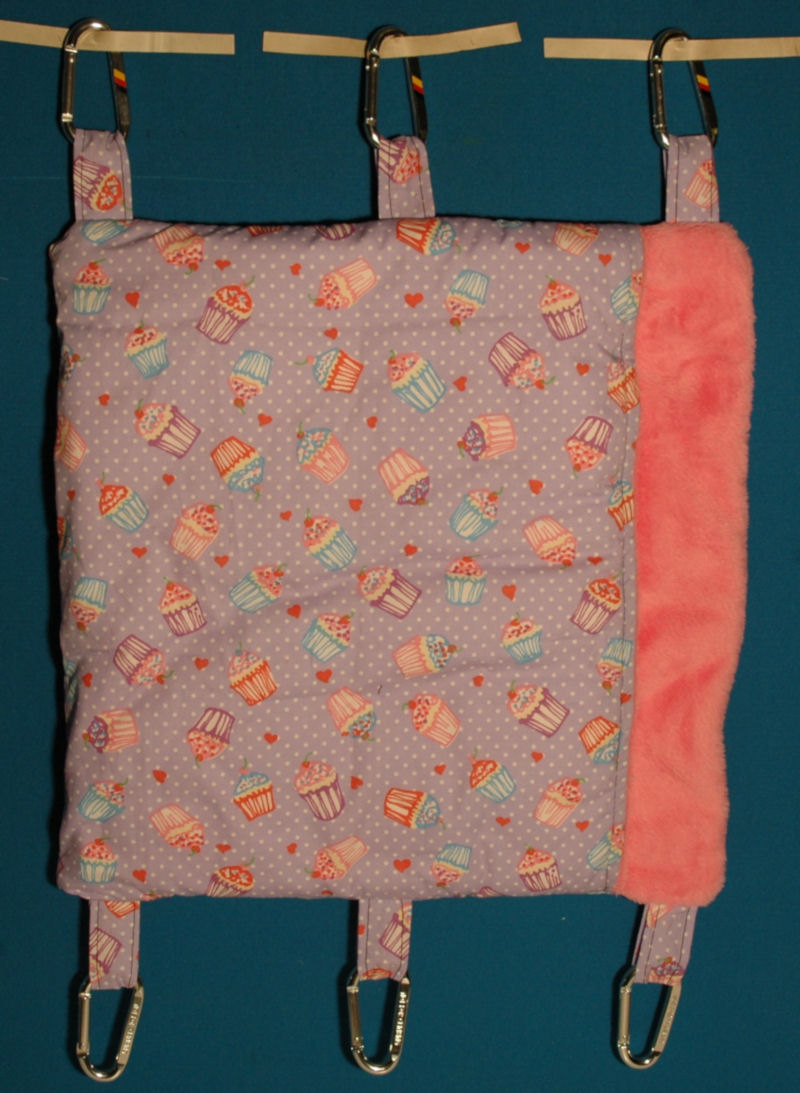 With plastic clips £12 each.
With 6 Aluminium Carabina clips £15 each.
Luxury Dolphin Hammock. 19" x 16".
Sorry Now Sold.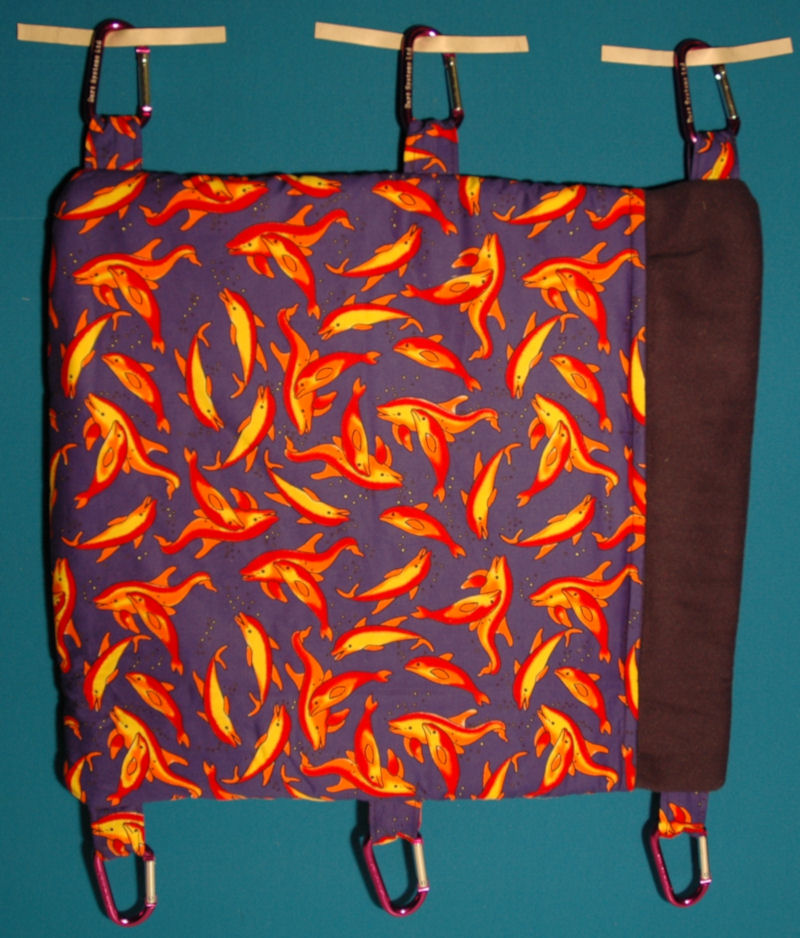 With plastic clips £17.
With 6 Aluminium Carabina clips £20.
Sleep-e-sack hammocks designed to fit the "Cat Hammock" frame pictured below. The overall size of the hammock is 20" x 14"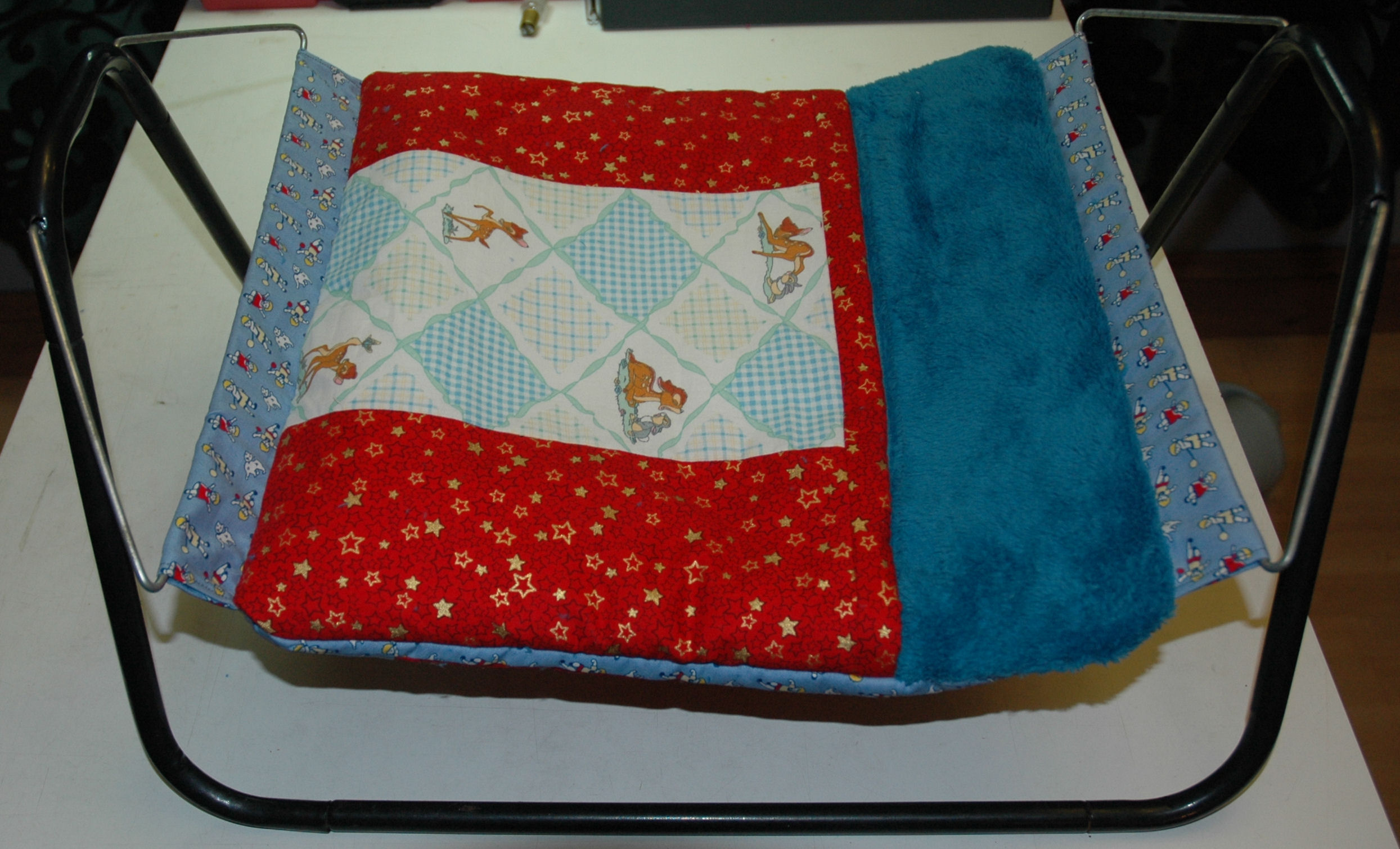 The frame is not included in the sale, just the hammock
Luxury Purple Liquorice Allsorts sleep-e-sack hammock to fit the Cat Hammock frame pictured above, £15.
Sorry Now Sold.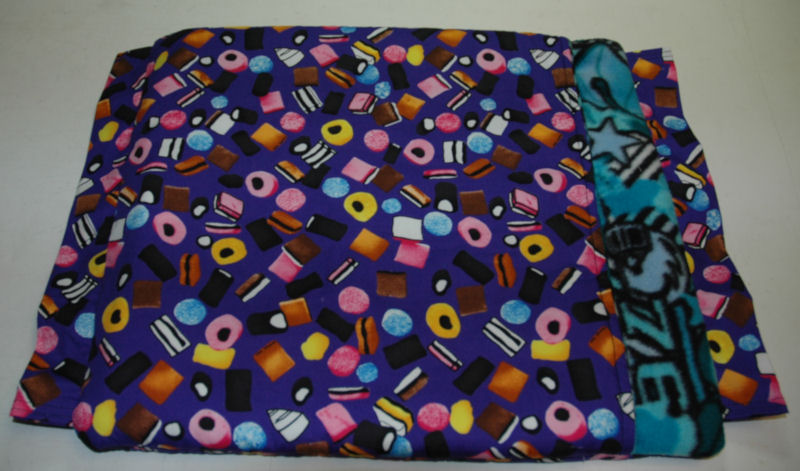 Prices exclude postage, which will be charged at cost.
Contact Uswebmaster@lazy-ferret.co.uk